Here are my favorite tips and shortcuts for using Lightroom Classic's Transform panel to correct distortions in images by transforming perspective (converging vertical and horizontal lines), rotation, aspect, scale, and position (X & Y Offset Values). 
Lens Corrections — For best results, enable Lens Profile Corrections and Remove Chromatic Aberration before applying Upright corrections. If Lens Corrections are applied after making Upright corrections, click the "Update" button in the Transform panel to have Lightroom reanalyze the image, and compute a new correction.
Upright Mode Shortcuts — Applying any of the five Upright modes (Auto / Guided / Level / Vertical / Full) will most likely produce better results when working on raw files because as they can take advantage of more reliable metadata within the file (such as focal length).
Control + Tab (Mac and Win) cycles through the Upright Modes.  
Shift + T selects the Guided Upright tool. Drag in the image area to add up to 4 upright guides per image. Option -drag (Mac) | Alt  -drag (Win) for finer precision (slower movement) while dragging a guide.
"O" toggles the visibility of the Guided Upright Loupe.
With the Guided Upright tool selected, set the Grid Overlay (located in the toolbar) to "Always" to display a reference grid in the image. If the Grid Overlay is set to either "Never" or "Auto",  tapping  "H" will toggle between them.
"A" toggles through the Tool Overlay options (Always, Auto, Never).
Aspect — Use the Aspect slider to help remove distortions within an image if an area becomes overly squished or stretched (I find this to be especially helpful when there are people/animals in the photo).
Revealing Cropped Areas — When using the Upright Modes, the resulting image is often cropped in order to avoid displaying blank areas around the edges. To help retain necessary information from the  original image that would otherwise be cropped, use the Scale, X Offset, or Y Offset sliders to reposition the image within the canvas. 
Rotated Crops and Manual Perspective Corrections — Rotated crops and manual perspective corrections in the Transform panel (Horizontal, Vertical, Rotate, Aspect, Scale, and X/Y Offset controls) applied to existing images will usually interfere with Upright corrections. For this reason, selecting one of the Upright modes will reset the crop and manual perspective adjustments order to display the maximum image area remaining after an Upright adjustment.  
Option -click (Mac) | Alt  -click (Win) to preserve Crop settings when applying an Upright Mode.
Sync Transform Settings — To sync transform setting across photos, choose "Upright Mode" to calculate Upright modes independently for each image. Choose "Upright Transforms" to synchronize using the exact numeric values.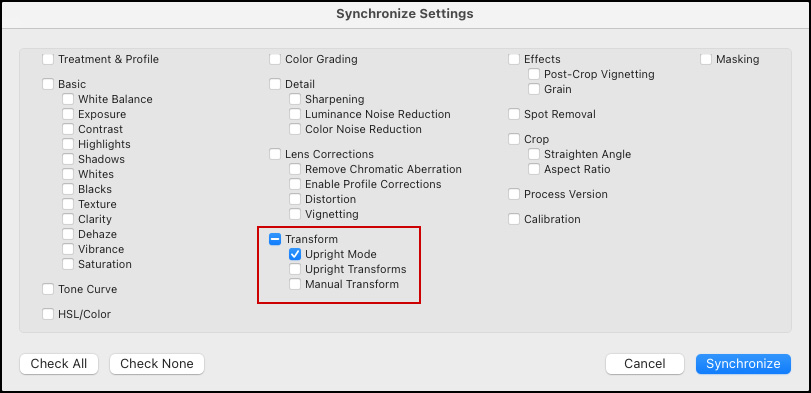 For example, select Upright Mode if you have a series of unrelated images where each photo needs to be analyzed and the perspective corrected individually. Note:  if this is something you do all of the time, you can create a preset by selecting Develop > New Preset and enabling the "Upright Mode" option. 
If, on the other hand, you have a series of related images such as a sequence of bracketed exposures or a set of time lapse images were you need to apply the same exact numeric perspective corrections to each image, choose to sync "Upright Transforms" (In this scenario, you don't want Lightroom Classic to analyze each individual image because Upright is very likely to return a slightly different result on each of the images in the selection.) Note: You could choose to create a preset by selecting Develop > New Preset and selecting the "Upright Transforms" option but I'm not sure that this preset would be useful when applied to future images because the numeric values are locked into it. 
Choose "Manual Transform", to sync the current values of the Vertical, Horizontal, Rotate, Aspect, Scale, X Offset, and Y Offset adjustment sliders.
The video below (Lightroom Classic – Guided Upright) walks through the Guided upright controls in Lightroom Classic.
---